Exactly what to do when you're not getting any traffic, sales or signups.
Welcome to the slump….population you….and about another 50,302 bloggers, coaches, and online business owners.
The fresh new-car smell of your latest blog posts, freebie or digital product went stale. And yourself doubt skyrockets…
Am I a fraud?
Does everyone hate me?
Why won't they share my stuff? I worked really effing hard on it!
Depressing, right?
Before diving head deep in a vat of rocky-road (or sour patch watermelons…if you're like me) – Take a breath. It's normal.
But we both know you're not normal.
You're a driven, action taker who doesn't take things lying down.
So here's exactly what to do when you find yourself in a drought:

1. Write down what you're actually doing (and stop doing it)
If the only thing you're doing is littering Facebook with "Come buy my awesome new planner!!!!!!" every day you won't get new sales unless you're adding 100's of new likes and followers daily. If last month you spent 3+ hours in Facebook Groups everyday "being of service" but your subscriber list is sitting at zero, something must change.
2. Start selling with stories
Free isn't free…yes even your blog posts cost time. Something your readers and customers don't have a lot of. But, us humans always have time for a good story.
Which is more appealing…
"MY calendar opened up!!!! I'VE GOT ROOM FOR 3 PEOPLE TO GET A FREE 30 MINUTE SESSION!!!!! BOOK NOW!!!
or
"I was bawling.
I couldn't even fit in my car. You see, a couple months back I went to the mall to buy a new purse. I was tired of losing pens and pennies in the hole of my old bag's lining. After 45 minutes of inspecting heaps of bags. I finally found one that was just right. I bought it, then started walking back to my car.
Some jackass parked soo close to my car I could barely get the driver's side door open. While cursing up a storm (and fighting the urge to key that buttface's car). I toss my shopping bag into the trunk, then tried to squeeze into the driver's seat. But my stomach got caught on the door. No matter which way I turned, angled or bent I couldn't squeeze into my car.
I swear at least 50 people walked by gawking at the fat chick with a red face, tears streaming down her face in embarrassment and disgust because she let herself "get that bad" that she couldn't get into her car…in public. That was my rock bottom with my weight. And while it's been a long and whining road. The one thing that made all the difference was having someone to talk to, to vent, to share my victories and not judge me when my "cheat day" turned into a "cheat week." With someone who actually knows what it's like to like to be fat.
Not a stick-figure barbie who's been skinny her whole life. But someone who gets it..for real. And I'd be honored to be that person for you….head over here [link] and sign up for a 30-minute call to chat. I'd love to hear your story. (And I'll let you know what awful thing I did to his car before I left too)
See?
3. Skip the dump threads. Be a guest star.
I can't lie, I still share my blog posts and freebies into those group threads. You know the ones…"Post your latest creation here" but that's not my main source of traffic. It's an extra, that I sneak in when I'm waiting for my daughter to get out of school or have just enough time to do nothing.
To actively grow my community and piggy bank – I pitch guest blog posts, podcast interviews and recently was in my first summit.
The Social Launch Podcast – Email Marketing Tips For Small Bussiness
Edtroxellcreative.com – Email Marketing Made Stupid Easy®: Turning Subscribers Into Buyers Without Bugging Them [Guest post]
MONEY & IMPACT VIRTUAL CONFERENCE – How to write sizzlin' email copy that converts ho-hum, "just-passing- through" website visitors into hot leads on your list and ready-to-buy customers [Summit]
Make it a mandatory practice to pitch to 3 different publications a week.
4. Do a Round Up Style Post
This is more for traffic but top internet marketers like Mike Hyatt are starting to turn these roundup-style post into epic opt-in gifts, too.
Pick a topic, closely related to your niche
Reach out to 3x as many bloggers and influencers as you want to feature – Ask them the question. Explain your post, when it will go live and your deadline. (Remember to ask for headshots, bios and link to their website or freebie). Include alittle bit about you in the P.S. The key keep it short, sweet and to the point.
Send out an "It's alive" email. Let's everyone who contributed know it's live, thank them again for contributing, ask for the share -make it easy. Include click to tweets, graphics and prewritten messages.
Some examples:
33 Soulful Luminaries Share 2016 Marketing Predictions
6 Fitness Experts Share Their Top Tips for Flattening Post-Pregnancy Pooch
16 Cycling Bloggers Tell You Why You Should Start To Ride Your Bike Now
5. The Smart Nudge
This is where you write a really actionable blog post or video normally a "how to" list post. The last "way" is the main focus of your product, service or freebie.
This is one of my favorites because you do some hardcore teaching
Say, I want to sell a small product called – How to land interviews on high-profile podcasts.
I'd create a blog post – 4 Ways To Grow Your List On Warp Speed. I'd talk about webinars, summits, guest blog posts, hen save podcasts for last. I'd talk about the benefits: podcast are fast, you can talk about the same thing over and over again, never worry about typos. But then share a story about getting rejected all the time and how I turned it around. And how I don't want that for you then mention my: How to land interviews on high-profile podcasts swipe files, templates, and tracker.
But what if I don't have anything to sell….yet?
Don't worry I got your back.
Because best of us get caught up in our own heads. It's so frustrating. It's like — if your best friend came up to you and said, "Hey I want to start an online business."You could list out 30 things she should do to make a sale in the next 24 hours. But when it comes to your business and blog….nothing. It.is.the.worst!
Because you're pouring in so much time, and effort. Never mind all the slack you're getting from your family:
"Are you making money yet?"
"What do you do all day besides play on Facebook?"
"It sounds like your running a scam".
[Open mouth insert ice-cream]
But it's not your fault.
All those big name gurus are trying to make you go from 0-100mph.
They want you to launch these jumbo size courses, with 90 days worth of free pre-launch content, and elaborate funnels. Where if someone clicks on this link they only get email A & D but if they don't click they get A,C, D and X.
Yeah no…
What you need is a simple system that eases you into selling.
By creating a small but spine-tinglingly useful digital product. New subscribers can't wait to whip out their credit cards out for…
And that's exactly what One Click Funnels is going to do for you…

One Click Funnels is a complete sales, tech and copywriting training mini-video course – Designed to get your first (or next) high-value low priced product, created, sold and ready to be delivered in less than 3 hours without skimping on quality. Thanks to the signature L.O.V.E. framework.
After this two-part video course + action book you'll walk away with…
A fully functioning PayPal button or DPD digital store set up and ready to take payments and deliver goods on autopilot. (A girl needs choices right?)
A take my-money-now-sales page thanks to the custom 1CF sales page roadmap
Products you create once and sell over and over again like pro-looking Done-for-you-style PDFs and workshop replays
A reinvigorated sense you deserved to be paid for your content
A fully functioning countdown timer, which automatically redirects people to a different page, (with a higher price) if they don't buy within a certain amount of time. For real urgency and to reward those who believe in themselves enough to take action now
Oh and there's bonuses: 5 To Be Exact!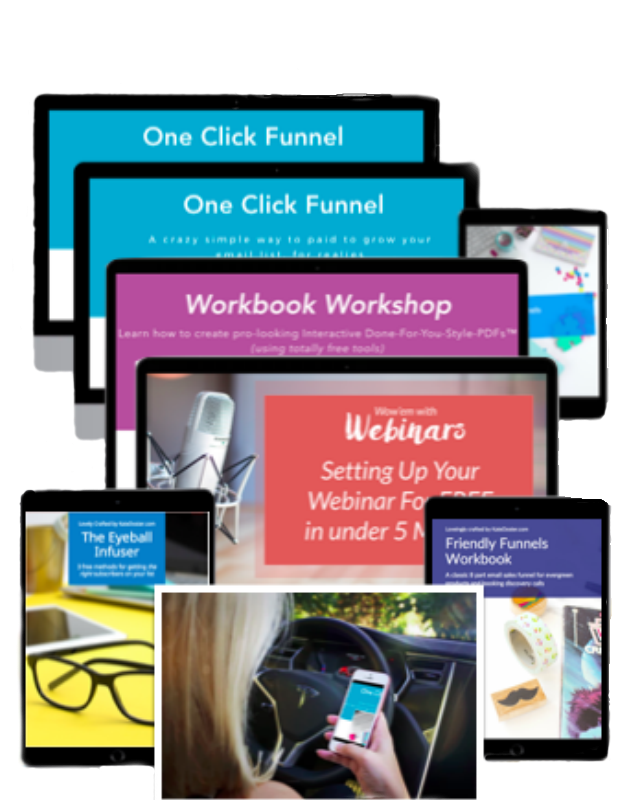 Bonus Number 1: The Workbook Workshop – Learn how to create professional looking pdfs and interactive workshops with two completely free programs

Bonus Number 2 The Webinar Quick Launch Program – In just 8-short minutes you'll learn how to set up, deliver and sell live webinars and replays – no fancy software required
Bonus Number 3 The Eyeball Infuser: 3 Simple FREE Methods for skyrocketing your email list sign ups even if your just starting out (including scripts + templates)

Bonus Number 4: The Friendly Funnels Workbook: Once you've got your footing, this 8 part wallet poppin', raving fan inducing email sequence is dangerously effective for booking discovery calls, freelance clients and mid-priced "always available" courses + digital products
And to make sure you get this done even if life happens you'll also receive…
Bonus Number 5: The 1CF Implementation Mini-Course to keep you focused, on track and executing. Because knowledge without action is useless. (And we all lose steam once and in a while)
You get this for the stupid-cheap one time payment of just $79!
Other coaches are selling this exact same information (minus the tech tutorials…because they don't know how) for $400+
Not on my watch! This information is so fundamental to your online success, I had to give it away for such a dangerously low-price.
But even if you don't invest in 1CF, please just do something different. I want to see your business succeed because us little guys need to stick together.
More Free Resources For You….